Cello Lessons
I'm a traditional method cello teacher with over 30 years experience. I teach students of all ages and all abilities, including adults. I tailor my teaching to the individual needs of each student focusing on getting results rather then using a one size fits all approach.
---
Teaching Philosophy
My teaching methods are traditional with some Suzuki blended in at the beginner level. I have had some Suzuki training but I feel that the progression of the pieces in the Suzuki cello school is not as well planned as for the violin school, and after the first book I move into other literature. I stress music reading more than memorization, although memorizing some pieces at the beginning is very important. I feel that with good music reading skills students are better able to play in orchestras and chamber music groups, which is important in enjoying the cello.
With my 30 plus years of teaching experience I feel able to tailor my teaching style and the materials I use to the specific needs of each student. I have had students of all levels and all abilities, including some with mild autism and Aspergers and also learning issues such as dyslexia. I use a great range of exercise books and performance pieces and can always find the right approach for a particular student regardless of age or ability.
Rather than measuring how long the student practices I focus on what they need to do for each piece and for younger students I might make a practice chart to help them organize their practicing. I write the goals for each piece that the student should be working to achieve between lessons. For younger students I often have them work for rewards such as stickers to help them focus their energies and stay on track towards achieving their goals.
A typical lesson and practice schedule includes both exercises and performance pieces, and a scale of the week. I use a variety of exercise and etude books, choosing the ones most appropriate for the particular student's needs.
---
When To Start Cello Lessons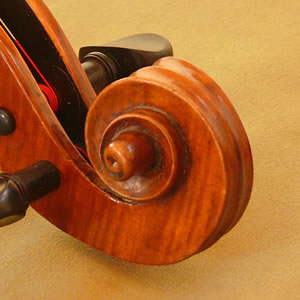 I feel that the ideal age to start the cello is 7-8 years old. It can work at an earlier age, but progress will be much faster with a slightly more mature child and it tends to be less stressful for families as well. I have worked with students as early as age 4, and while some families have success, I feel that string playing is so picky and difficult that progress is very slow and frustrating for someone that young. To develop the younger child's ear I feel that singing and/or piano studies are better at that age. Kids that begin a bit later seem to stick with it better. If you have a younger child and you would like to try lessons please contact me and we can discuss the possibility.
I am happy to start students on their cello studies at older ages as well. Some of my most successful students began their lessons in middle school or older. Some of my adult students are retired and never played an instrument until their 50's or 60's.
If you are already playing the cello and have moved or decided you need to change your teacher, I will try to make the transition as easy as possible.
---
Adult Students
I have a great bunch of adult students ranging in age from people just out of college to folks in their retirement years. I have a group of adults that plays chamber music together and several of my adult students go to concerts and festivals together. Teaching adult students is something I really enjoy and while it can be challenging for people to start the instrument in later years I have seen lots of success in my students. Several of them play regularly in orchestras and chamber music groups and have gotten to an advanced level. My adult students do not have to play in recitals unless they want to.
---
Performance Opportunities
I offer two performance opportunities for students each year. At the end of the school year each student must perform in a recital. However, for performances I do not push students to have their pieces memorized unless the student wishes to participate in competitions. Usually I schedule two different recital dates for students to choose from. I do not require adult students to play in recitals but they are welcome to do so if they wish.
The other performance opportunity I offer is a pops concert. This is not required, but most students find this to be lots of fun. Students pick their music from movie music, pop music and jazz and have to learn to play in that style. More advanced students learn about arranging and other ways of adapting music from another instrument and genre for the cello. Students and their parents alike really enjoy this and the students learn a lot from the experience. I often have a group of cellists playing chamber music arrangements of classic rock or other music for this recital.